Interfaith Thanksgiving Celebration
---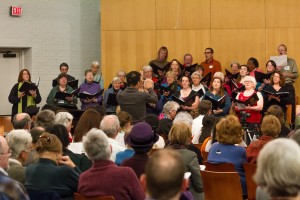 Each year the Interfaith Round Table offers to the community a unique Thanksgiving celebration. Thanksgiving as a national observance belongs to no single religion or faith tradition. Rather it's a time when people of many religions (and of no religion in particular) express their gratitude for life and all its gifts.
Over the years we have found that this is an ideal time for people of faith and conscience to come together to celebrate. And that's what we will do again this November. All are welcome to attend!
The pictures on this page are from our event at the First Unitarian Universalist Congregation in 2014.  We had excellent attendance (about 275) and outstanding participation with music, prayers, readings, meditation and comments from George Lambrides entitled "Why do we do this?"  Here are his remarks.
Each year the event contains readings, music, meditations and other unique presentations from a wide variety of faith traditions. This is not a service in the usual religious sense of the word, but instead a community gathering for the purpose of saying "thank you" together!
This year we were hosted by the Hindu Chinmaya Mission, 4760 Packard,  Ann Arbor, on Nov. 20, 2016.  This year's celebration immediately followed our "Tastes of Faith" fundraising dinner at the same location.
Note: Donations were received for non-perishable food or turkey money to help those in need in our community.
Next November's date:  Sunday, November 19, 2017, at Beth Israel Congregation, 2000 Washtenaw, Ann Arbor